Pumpkins & misc.
I'm not really into Halloween -- especially now that I don't even get any candy. :( But I have been waiting to use this: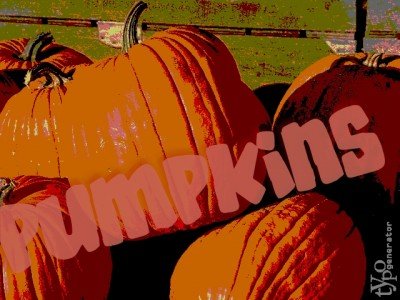 ...made in one of my typoGenerator addiction cycles.
Today is Scott's 40th birthday. He chose to spend it camping and hiking with Ian and Christopher. I'm glad that they can spend time together like that. My dad never wanted to do anything with my brother and I -- unless it was chores. :P
I was supposed to go to my parents' house today, but I think I'm going to have to call and cancel. I'm babysitting Jordan today, I want to get the house clean and decorated for Scott's birthday, and tonight is "Trunk or Treat" at the church for the kids. (The kids play games inside the cultural hall and then go out to the parking lot and trick or treat at the car trunks in the parking lot.)
My only real regret about not going to visit today is that I will miss seeing my cousin Andrew who is back from Iraq for a visit. I would love to talk to him about his experiences.
Cassandra and I stayed up really late last night making a mouse costume for Jordan. He looks so cute. I'll have to post some pictures later.
Posted by 2Flower at
08:19 AM
|
Comments (2)