November 12, 2005
I Can
I have been doing better lately, and I'm not really sure why. I have struggled with depression for most of my life, but I have felt a change in the last few weeks coming on. I haven't even really been taking my medicine as consistently as I probably should, and I missed my last appointment with my psychiatrist (whom I really, really like, BTW). There have been the usual amounts of stress and annoyances.
For the last few days I have been more focused on organizing, de-cluttering and cleaning, and in the process I'm getting more exercise. I even got on the treadmill yesterday for a few minutes at a time. I have been enjoying listening to music and also finishing some crochet and knitting projects.
There is some subtle change somewhere that is making a difference. I sure wish I knew exactly what it was, because I almost look at it as a miracle. Whatever it is, I desperately want it to stay.
My attitude has been much more positive. I have been more aware of my thoughts, and I have been much more focused on "I can." I think it is true of almost everyone -- not just me -- but we each have a great deal of potential for accomplishing great things if we will believe in ourselves enough to try -- and keep trying. I think if we try hard enough to do something, we probably can in most cases. I'm not really sure where this is coming from, but I really like it. I just have to decide what I want to do the most and then do it. That is the hardest part. ;)
November 11, 2005
Daughters & Dudes
It's my daughter Cassandra's birthday today, so she and Charity have gone to a matineee and shopping together. I was invited, but I know it would not be a good idea to leave Christopher and Ian here that long together, especially since Ian has his friend Michael over. I can only imagine what could happen. :P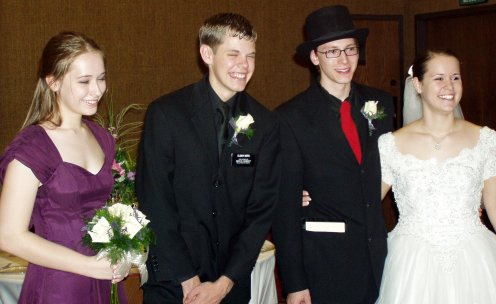 Left to right: Charity, Elder Berg, Morgan & Cassandra

While I wasn't blogging for most of the year, I missed writing about some really important stuff. I thought I'd slip in a wedding photo from my daughter's wedding last month. It's not the best photo, but I liked it a lot because not only are Cassandra and Morgan looking really happy, but my other daughter Charity and our favorite missionary Elder Berg are in it as well. Don't I have two very beautiful daughters?
We were all sad to have to say good-bye to Elder Berg on Tuesday, and we had all become pretty attached to him. He became friends with Cassandra and her (then fiance) Morgan while Morgan was taking the missionary discussions. Morgan was baptized in September, and when Cassandra and Morgan were married last month, he was the best man at their wedding and my daughter Charity was the maid of honor. Since the missionaries live in the same apartment complex, they spent a lot of time with Cassandra and Morgan. Anyway, Elder Berg a very talented singer/songwriter/composer/musician. Since Morgan plays the bass, they were getting together with my son Ian (who plays the guitar) on Elder Berg's day off to play some music together. Supposedly this was okay for the missionaries to do in their free time -- I hope so. ;) We're really going to miss him a lot, but he assures us that we have not seen the last of him.
November 02, 2005
Gnu Sims
Scott brought this home to me Monday night, so I've been a little *busy*. ;) Yes, I know I'm a grown woman.

I really like the new cars and garages in the Nightlife, and it's wonderful to be able to see the neighboring houses while playing. It would be even better if I could turn up the resolution more without slowing things down on my computer. As far as the other changes go, I haven't really played enough to have much of an opinion yet.
I've been playing with my second Legacy family called the Gnu family. I really like them. I'm only on the second generation, so it will take a long time to get to Generation 10. I've written one chapter so far, so if you're incredibly bored you could read the story about Lance Gnu.